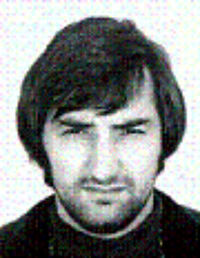 Ronald Jerothe (born Ronald Gerote), also known as "Foxy" (May 24, 1947 - December 18th 1974) was an American mobster and member of the Bergin Crew, who operated out of John Gotti's Bergin Hunt and Fish Club in Ozone Park, Queens. Jerothe was killed in 1974 by Lucchese crime family associate Thomas DeSimone over a dispute involving Jerothe's sister whom DeSimone was dating at the time.
Criminal Activities
Jerothe's primary racket was hijacking, but he was also involved in bank robberies and drug trafficking; he was a protégé of John Gotti, bodyguard of Aniello Dellacroce and a close friend of Salvatore Polisi and Thomas DeSimone.
Jerothe earned a reputation in mob circles from his swiftness during bank robberies and skills at seducing women. While performing hijackings he would keep a snub-nose pistol, usually a .38 Smith and Wesson, in the rear pocket of his pants or taped to his leg in the style of undercover policemen. Jerothe also thought up the idea to regularly use handcuffs manufactured by Smith & Wesson because they were the same ones used by the New York Police Department (NYPD), which would allow handcuffed truck drivers to be released quickly. When not committing burglaries and hijacking transports, Jerothe and Thomas DeSimone would go streaking together, when it was at the height of its craze, running down Lefferts Boulevard high on cocaine and race around the streets in Sal Polisi's go carts.
Death
Ronald was shot point blank range in the face by Thomas DeSimone as he answered the door of his Ozone Park, Queens, New York, apartment. Jerothe's sister had been dating Tommy DeSimone. Following a break-up, Tommy had assaulted her, provoking Jerothe to threaten to murder DeSimone. DeSimone heard of the threat and went to visit Foxy. As soon as Jerothe opened the house door, he punched DeSimone between the eyes. DeSimone revealed a .38 caliber pistol and shot Jerothe three times, twice in the head.
Aftermath
Despite the fact that the Gotti brothers were angry over Jerothe's drug skimming, they were willing to exact revenge as a matter of principle because DeSimone had murdered a Gambino member without permission. In addition, DeSimone, in 1970, had also killed William Devino, another made member of the Gambino crime family.
After getting permission from DeSimone's capo, Paul Vario, to murder DeSimone, Gotti dispatched Thomas Agro to kill him. DeSimone was lured to Agro under the pretense of becoming a made man. On January 14, 1979 DeSimone disappeared. Agro had murdered him and allegedly thrown his body, weighted down, into the sea. Thomas Agro was also responsible for killing Thomas's older brother Anthony several years earlier, and had plans to kill his brother Robert in 1985 before he was incarcerated.