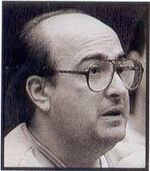 Ronald A. "Ronnie" Lorenzo (born July 4th, 1946) is a former soldier of the Bonanno crime family based in Los Angeles, California. He made headlines in the 1990s over his legal troubles and for his possible connections with the Bonanno family. At the time, federal and city authorities were investigating Lorenzo for kidnappings, cocaine distribution, robberies and extortions against gamblers and movie executives.
Biography
Lorenzo grew up in Little Italy on Mulberry Street, New York and is a former member of the Bonanno crime family. He first opened after-hours clubs (many with gambling) around the city and was also involved in a few discos. The last club he owned before leaving New York was a Jazz club at 210 W. 70th St. and Broadway called The Grand Finale, which is where Woody Allen shot the movie Annie Hall. Ronnie sold it in 1979 and moved to the Los Angeles area in 1982 where he opened a few restaurants in Malibu called Dudley's, Splash, and a pizza restaurant, Spruzzo. He also opened Mulberry St. Pizza on Cannon Drive in Beverly Hills, in which he was partners with actor James Caan and actress Cathy Moriarty. He also allegedly began to deal in cocaine distribution, robbery, money laundering and kidnapping.
When Lorenzo first moved to L.A. he was a friend of Joseph Ippolito, Jr., who's father, Joseph, Sr., was an associate of Jewish mob boss Meyer Lansky. Lorenzo was also long-listed as an associate of the Los Angeles crime family led by Peter Milano, with whose cooperation and permission he operated in L.A.
His first and only conviction came in 1992 on a federal drug conspiracy charge. During the trial, Actor James Caan appeared to testify on Lorenzo's behalf calling him his "best friend" and pledged his Bel-Air home as collateral against Lorenzo's $500,000 federal bail. At the same time, Lorenzo was also accused of helping to plot the kidnapping-extortions of affluent San Fernando Valley residents. His restaurant "Splash" was also subject to many inquiries, as it was a suspected front for money laundering and had its liquor license revoked. He was ultimately sentenced to 11 years imprisonment and 5 years of supervised release for a charge that called for 10 years.
After his release from prison, Lorenzo "retired" and advises mob-related television programs and most recently was in the news when he was interviewed about his opinion of the new Robert DeNiro film "The Family". He and his wife have been together for over 50 years, and have been married for 45 years. They have two daughters and two grandsons. He is reportedly inactive in organized crime.