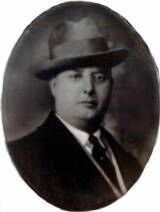 Rosario "the Chief" DeSimone (December 11, 1873 - July 15, 1946), was the head of an Italian crime family that was the predecessor to the Los Angeles crime family of the American Mafia from 1922 to 1925. Rosario was the father of the future California mob boss, Frank DeSimone.
Biography
DeSimone was born in Salaparuta, Sicily in Italy on December 11, 1873. He initially settled in New Orleans before moving to Pueblo, Colorado. In Pueblo he was part of that city's Mafia organization, and was evidently well-respected. He joined Vito Di Giorgio in Los Angeles and became his underboss. Upon Di Giorgio's death in Chicago in 1922, he became the boss.
His empire spanned over Los Angeles County. He later became a legitimate businessman who settled in Downey, California. Rosario died of natural causes in 1946. His rule in the Los Angeles family was brief, and he stepped down around 1925. He was succeeded by Joseph Ardizzone.
Family
DeSimone married and fathered several children. His son by his first wife, Leon DeSimone, graduated from Stanford University and became a successful Los Angeles surgeon. DeSimone fathered two sons by his second wife Rosalia Cordo. Frank DeSimone, his second son, became a criminal attorney and later don of the crime family, reigning from 1956 to 1967. His third son, Joseph, became a dentist. His first and third sons had no interest in leading a life of crime. DeSimone also had two daughters, Josephine and Towina.
Several of Rosario's other descendants also became involved in the Mafia. They include his grandsons Thomas DeSimone, Robert DeSimone, Anthony DeSimone, and Joseph DeSimone. Others include his granddaughter Dolores DeSimone and relatives Franky DeSimone, Ralph DeSimone, Phil DeSimone, and James DeSimone.
Community content is available under
CC-BY-SA
unless otherwise noted.