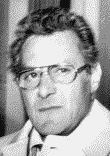 Salvatore Briguglio (Died - Match 21, 1978) known as "Sally Bugs", was a New Jersey mobster associated with the Genovese crime family and one of the top suspects in the disappearance (and presumed murder) of Jimmy Hoffa.
Biography
"Sally Bugs", was a New Jersey loanshark and suspected hitman who served as a lieutenant to Teamster Union Local 560 Boss Anthony Provenzano. Briguglio was a business agent for Local 560, and was apparently a strong arm man for Provenzano. Although small in stature, and looking more like a civil servant or a professor, with his dark, horn-rimmed glasses and short hair, he was it seems, a dangerous and very capable killer.
Salvatore "Sally Bugs" Briguglio allegedly murdered Anthony Castellito and transported the body back to New Jersey. Castellito's remains were never found. Conveniently Provenzano was in Florida at the time of Castellito's disappearance. The setup was nearly identical to Jimmy Hoffa's disappearance. When Provenzano returned to the Garden State, he appointed Briguglio, who previously had no official connection to the Teamsters, to the victim's former position as secretary-treasurer of Local 560.
In 1985 the FBI released a memo summarizing the Hoffa case and cited Salvatore Briguglio as a prime suspect along with Briguglio's brother Gabriel, the brothers Stephen and Thomas Andretta, Chuckie O'Brien, "Tony Pro" Provenzano, "Tony Jack" Anthony Giacalone, and the mob boss of western Pennsylvania, Russell Bufalino.
On March 21, 1978, Briguglio was murdered gangland-style on Mulberry Street in New York's Little Italy. Two gunmen pumped several shots into his chest and head. At the time he had allegedly been talking with prosecutors and was about to make a deal in exchange for his testimony against Provenzano in the Castellito murder case. He was also scheduled to appear with Provenzano and Harold Konigsberg in court for the 1961 murder of Anthony Castellito.
Amazingly, the killing was allegedly witnessed by two NYPD Intelligence cops who were busy trailing one of Briguglio's dinner guests, Genovese capo, Matthew Ianniello, and for some reason these cops were unable or unwilling to intervene. The killers, as always, disappeared, although another eyewitness to the shooting, identified underworld figure Joe Scarborough as a potential suspect.