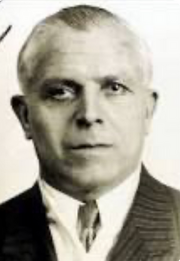 Salvatore "Toto" D'Aquila (November 1877 Palermo, Sicily – October 10, 1928 Manhattan, New York) was a New York City mobster from the Mustache Pete-era and the first boss of the Gambino crime family.
Biography
D'Aquila was born in November 1877 Palermo, Sicily and immigrated to America in 1906. He worked alongside the Morello's in East Harlem. D'Aquila was arrested in 1906 for theft and in 1909 both times the charges were dropped. In 1910, boss of bosses Giuseppe Morello was imprisoned and D'Aquila separated from the Morello family. D'Aquila formed his own crime family and appointed himself the new Boss of Bosses. His crime family operated from East Harlem and the Bronx where he rivaled the Morellos.
D'Aquila expanded his crime family's power into Brooklyn. The top members of his crime family were Alfred Mineo, Giuseppe Traina and Frank Scalise. In 1920 when Joseph Morello was released from prison D'Aquila tried to have him and his closest allies murdered. In 1925, D'Aquila moved back into the Bronx. On October 10, 1928, D'Aquila was shot to death by Giuseppe Masseria on Avenue A in Manhattan, New York.
He would be only one of the many killed by Masseria and Salvatore Maranzano on their campaign to become Capo di tutti capi (boss of all bosses), including his successor,Alfred Mineo.