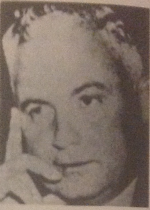 Salvatore Falcone (August 17, 1891 - 1972) aka "Salvatore Projetto", was the boss of the Utica, New York mafia organization. Although not an independent crime family, over the years it has not been established exactly which crime family Falcone belonged to and he and his crew operated with much liberty on their own territory, presumably with the permission of other powerful New York crime families.
Biography
Falcone was born in Sciacca, Sicily and became a naturalized U.S. citizen in 1925. Salvatore and his brother Joseph both became members of the mafia, most likely of the Buffalo crime family and associated with the Rochester crime family, which all shared territory. The Falcone brothers enterprise controlled the rackets in Utica, New York for 70 years through violent intimidation and public corruption.
Sin City of the East
During the Falcone reign as the crime bosses of Utica, New York, the city became known as the "Sin City of the East". During Prohibition Falcone had been a bootlegger and was among the first to obtain a liquor license following the repeal of Prohibition. Falcone was accused of participating in "an illicit alcohol racket that spanned nine counties across New York, into Pennsylvania and Massachusetts, during the 1930s" which failed to pay more than $5 million in taxes on the alcohol. Although he was convicted, less than a year later his convictions was reversed on appeal. Falcone was also linked to a number of Prohibition era unsolved homicides. Salvatore earned legitimate revenue from horses and tracks, real estate and labor union activities. Falcone and his brother Joseph not only dominated vice activity in Utica city, but were very powerful in the political structure.
In 1957, both Salvatore and Joseph were arrested when police raided the infamous Apalachin Mafia conference at Joseph Barbara's estate in New York representing the Utica-Rome area. The arrest of the brothers confirmed what everyone had known in Utica for decades, and finally provided the impetus for state law enforcement to challenge the rampant mob racketeering and political corruption that pervaded the city. The resulting investigations brought down Deputy Police Chief Vincent Fiore and Police Chief Leo Miller, and indictments against 23 individuals, including several dirty cops and bureaucrats, which netted 21 convictions. And yet once again the Falcone brothers escaped justice. By this time Salvatore had set up residence in Miami, Florida in 1946 where he operated an Italian-American grocery business leaving his brother and son, also named Joseph, to manage the day to day operations of the Utica mob.
In 1960, Salvatore Falcone was convicted for refusing to testify about the Apalachin meeting, which was reversed on appeal. Up until then his only other conviction had been on a Prohibition-related charge in 1925 for which he paid a $6,000 fine. He died of natural causes in 1972.