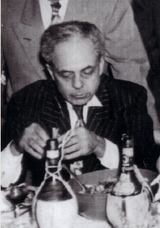 Salvatore Ferrara (born February 23, 1896- date Apr 12 1974) known as "Sam", was the boss of the Milwaukee crime family from 1949 to 1952.
Biography
Ferrara was an Italian immigrant born in Palermo, Sicily. Upon his arrival in the US he settled in Milwaukee, Wisconsin where he became a member of the American Mafia. He Married Laura J Marino, daughter of Nicola and Maria (Mary) Messina.
He became a high ranking member of the Milwaukee mob under boss Joseph Vallone. Under Vallone's leadership the New York mafia Commission decided that the Milwaukee family would answer to and remain under the Chicago Outfit's power. Vallone retired in 1949 at which time Ferrara became the new boss of the family. Ferrara owned a liquor store, rental properties and a lounge called the Peacock cocktail as well as other business establishments. Ferrara's illegal activities included extortion, gambling and prostitution. He had no arrests noted in the Milwaukee police database at the time he became boss and was considered by law enforcement to be an old-time mafioso and leader in Milwaukee.
His time as boss was short lived. In 1952, tensions arose and Ferrara was voted out as boss by members of his own crime family and members of the Chicago Outfit forced him to step down, allegedly because he was no longer very active in crime family affairs. Ferrara was supposedly ordered by the Chicago Outfit to transfer to the West coast but this move fizzled out for some unknown reason and stayed in Milwaukee. After Ferrara was deposed, John Alioto stepped up and replaced him as the Milwaukee "Godfather". Alioto was the father-in-law of future crime boss Frank Balistrieri. Although he was deposed Ferrara was said to have maintained a good relationship with Alioto and was consulted in matters of importance in the Milwaukee outfit.
By 1963, Ferrara was considered inactive by law enforcement.
Community content is available under
CC-BY-SA
unless otherwise noted.