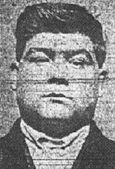 Salvatore Giannola was an Italian gangster.
Biography
Salvatore was the younger brother of Antonino was born in the Terrasina region of Sicily in 1889. He with his brother emigrated to Detroit. After the murder of his brother on January 3rd 1919, Salvatore assumed control of the family "business" a month or so later. He survived an assassination attempt in which his brother-in-law Pasquale D'Anna was killed. Later after three weeks had gone by, John Vitale's son and two others were shot in the lobby of the Wayne County Jail; Salvatore Giannola was charged with the murders, but was acquitted. Following a reluctant peace treaty in the May of 1919 he tried to ease himself out of the business, but was shot dead in front of the American State Bank on Monroe and Russell Streets, October 2nd of that year. Three men were responsible, one of them being his personal bodyguard. Salvatore Giannola's funeral was one of the most elaborate elegant and heartfelt one in Detroit at that time.
Community content is available under
CC-BY-SA
unless otherwise noted.