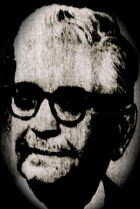 Salvatore "Sam" Lobello (Mar. 9, 1883- died Jan., 1966) was an Italian-American businessman and alleged Consigliere of the Dallas crime family.
Biography
Lobello was an Immigrant from Italy who established himself as a successful developer credited with a number of firsts in the Dallas metropolitan area. He first came to prominence in the food industry becoming the originator of the all-night food stand with his 'The Busy Bee food stand'. He also owned various successful restaurants in different parts of Texas and the Dallas area. His father, Tony Lobello, was a well respected leading figure in Italian circles during the early 1900s, who was known throughout the Italian communities in Dallas and Houston. Lobello was also allegedly a member of the Dallas crime family and upon John Genaro's death in 1954, became the family 'Consigliere', a title he held until his death of natural causes in 1966.
Community content is available under
CC-BY-SA
unless otherwise noted.