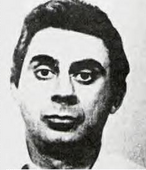 Salvatore "Chuckie" Merlino (June 29, 1939 – October 22, 2012) was a member of the Philadelphia crime family and former Underboss for Nicodemo Scarfo. He is the father of Philadelphia mobster Joseph Merlino.
Biography
Salvatore "Chuckie" and Lawrence Merlino were friends of Nicodemo Scarfo since they were teenagers. In the early 1960s, Scarfo was banished from South Philadelphia to the Italian enclave of Ducktown, Atlantic City for killing a man for no reason. This exile came at a time when Atlantic City was a dying town. After the death of family bossed Angelo Bruno and Philip testa scarfo was named new boss of the philadelphia mob.
Change of fortune
Legalized gambling changed everything in Atlantic City, and the Merlino brothers were by Scarfo's side as he rose through the underworld to eventually become the Boss of the Philadelphia crime family. For most of the 1980s, Scarfo and his mob ruled with an iron fist.
Scarfo's underboss
In the Mid 1980's when Nicodemo Scarfo was made boss, he made his closest and oldest friend, Chuckie Merlino, his underboss.
Chuckie Merlino's daughter, Maria, was engaged to Salvatore Testa, the son of former Philadelphia mob boss Philip Testa. Salvie was an up and comer in the family and stealing some of the spot light from Scarfo. Scarfo was enraged and was waiting for a reason to kill Testa. Testa broke off the wedding with Chuckie's daughter and Scarfo had his chance. An enraged Merlino was settled down when Scarfo announced Salvatore Testa would be killed. Testa was whacked on September 14, 1984. The murder of Salvatore Testa was one of many murders that Nicodemo Scarfo and Merlino orchestrated.
Convicted
The reign of Nicodemo Scarfo was bloody. Chuckie Merlino became an alcoholic and no one knew what he would say when he was drunk. The paranoid Scarfo demoted Merlino and his brother Lawrence "Yogi" Merlino to soldiers, also known as being put on the shelf. Shortly after this occurred, Merlino was indicted and charged with racketeering and murder. Merlino was serving his time at the Federal Correctional Institution, Fort Worth, a low security facility in Fort Worth, Texas. His projected release date was August 3, 2016. He died on October 22, 2012.
Community content is available under
CC-BY-SA
unless otherwise noted.