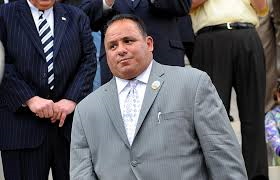 Salvester "Sal" Zarzana is a soldier in the Genovese Crime Family.
2012 Indictment
Zarzana was formerly the head of the Local 926 of the United Brotherhood of Carpenters and Joiners. He was kicked out as president of the Carpenters Local 926 over questions about his abuse of union credit card. He denied knowing anything about the Genovese crime family or the mafia in general in a sworn affidavit made in 2011.
In April 2012 Zarzana along with Genovese capo Conrad Ianniello, Genovese soldier James Bernardone, and several other associates were arrested and charged with racketeering conspiracy, extortion, illegal gambling, union embezzlement and obstruction of justice. Zarzana and Bernardone were both identified as soldiers within the Genovese Borgata by federal agents in the indictment.
==
References == http://nypost.com/2013/11/27/mobsters-plead-guilty-to-racketeering-extortion/
http://www.nydailynews.com/news/crime/america-powerful-mafia-family-active-unions-indictment-article-1.1063698
Community content is available under
CC-BY-SA
unless otherwise noted.