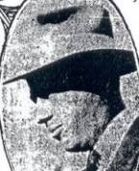 Orsario "Sam" Matranga (murdered, 1917) was the boss of the Matranga Gang, also known as the Matranga crime family, the predecessor of the Los Angeles crime family, which he led from 1905 until his murder in 1917. He was a bitter rival of Joseph Ardizzone.
Biography
The early years of organized crime in California were marked by the division of various Italian street gangs such as the Black Hand organizations in the early 20th century.
The most prominent of these was the Matranga crime family, a gang ran by relatives of Charles Matranga, founder of the New Orleans crime family. Their legitimate business was in fruit vending. Otherwise they used threats, violence, arson and extortion to control the Plaza area, which was the heart of the Italian American community of Los Angeles at the time. Its first leader Orsario "Sam" Matranga, started leading the family in 1905. Sam's relatives Salvatore Matranga, Pietro "Peter" Matranga, and Antonio "Tony" Matranga were other members of the gang, which carried out the typical extortionate activity associated with the Blackhand.
Matranga's boys also participated in a string of robberies and intimidated anyone who threatened to inform on his activities. Matranga was murdered as he arrived at his home in 1917 and was succeeded by his brother, Pietro "Peter" Matranga who was also murdered within 33 days of his brother Sam in 1917.