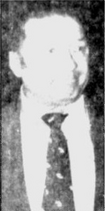 Samuel Orlando Sciortino (born 1919-) was the underboss of the Los Angeles crime family from 1974–1979.
Biography
Sciortino was born in New York, NY and later moved to California where he became a capo in the Los Angeles crime family and resided in Rancho Mirage. He was the cousin of Gaspare "Bill" Sciortino, the underboss of the San Francisco crime family. In 1974, L.A. family don, Nick Licata died and Dominic Brooklier became the new boss. Brooklier was a partner of Sciortino's in a pornography extortion racket and promoted Sciortino to be his underboss.
The following year, both Brooklier and Sciortino were sentenced to a short prison stint, at which time Brooklier made Jimmy "the weasel" Fratianno the Acting boss of the Los Angeles family.
During the 1970s, Sciortino was also involved in a scheme with Peter Milano, Raymond "Rocky" DeRosa and San Diego capo Joseph LiMandri to provide pre-paid health plans to Teamster members through a Los Angeles physician with money contributed by employers under Teamster contracts, for which the mobsters would receive kick-backs. The mobsters met with Teamster president Frank Fitzsimmons who approved of the mafia-sponsored health plan scheme.
In 1981, the 61 year old Sciortino was convicted of racketeering and extorting pornographers. He was sentenced to 4 years in prison plus a $25,000 fine. The sentencing Judge told Sciortino "You're a decent fellow...but you still conduct some pretty awful activities". Also convicted in the same case were L.A. mobsters Michael Rizzitello, Louis Tom Dragna, Jack LoCicero and Brooklier.
Sam Sciortino died on August 23, 1983 while imprisoned.