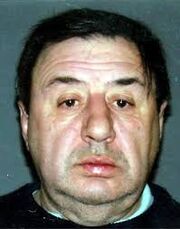 Sandro Aiosa is a capo in the Bonanno Crime Family.
Criminal Career
Aiosa has served as a capo within the Bonanno Family operating in Brooklyn since the 1970's.
In October of 2010, former underboss turned informant Salvatore Vitale testified against various mobsters including Aiosa. Aiosa was sentenced to 12 months in prison for his part in various mob rackets.
He was released in October of 2012.