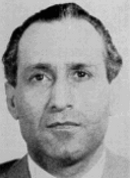 Santino Joseph "Sandy" Naples (Birthname DiNapoli, born 1906- died March 1960) was a soldier in the Pittsburgh crime family. During his heyday Naples was perhaps Youngstown, Ohio's most noted criminal and gambling boss.
Biography
Naples was heavily involved in the "Policy racket" also known as the numbers and lottery. He ran his gambling empire from the Center Sandwich shop. His top lieutenants were his brothers Billy and Joey Naples, also members of the Pittsburgh LCN family. He was a close associate of Pittsburgh capo Gabriel Mannarino who controlled large scale gambling rackets in Kensington, PA. Naples was one of the Mahoning Valley's "Big 3," policy bankers, including Buffalo Mafia member Joseph DiCarlo, Jr., who muscled into the race wire service and controlled the local bookmaking and was later chased out of Youngstown by the police. The other overlord of gambling in the area was Vince DeNiro, an associate of the Cleveland crime family with whom Naples would fight a bloody gang war for control of the vice rackets beginning in the early 1950s. By the end of the 1950s, Youngstown would become known as "Bomb Town." Naples had once served time in Western penitentiary, Pittsburgh from 1934 until 1944 for severely beating a man in a robbery that only netted him $2.12. He made big headlines in 1958 while serving a gambling sentence in Mahoning County jail, when he was caught slipping out on weekends to see his girlfriend.
In March, 1960, Naples was shotgunned to death along with his 28 year old girlfriend Mary Ann Vrancich during one of his "visits" while serving his gambling sentence. He would be succeeded in his rackets by his brother Billy and later Joey Naples, both would also be killed in the following years.