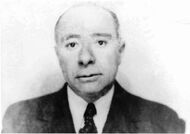 Stefano "Steve" LaSalle (real name LaSala) was the Underboss of the Lucchese crime family from 1951 until 1972. He served as underboss to infamous Godfather Thomas Lucchese.
Biography
LaSalle was an early member of the Morello crime family, who later joined the crime family of Gaetano Reina, later known as the Lucchese crime family. In 1915, East Harlem's Italian lottery "king" Giosue Gallucci was murdered, allowing LaSalle and Tommaso Lomonte to take over the lottery games. LaSalle was considered to be an "Old world" type mafioso who believed in the Honored society, its secrets and rituals and saw the mafia as more than just a vehicle to make money. He reportedly lived in a modest two-family home with his wife and son, who was a dentist. He owned a small garment factory, which was his legitimate source of taxable income.
LaSalle would serve as underboss to Thomas Lucchese, Ettore Coco and Carmine Tramunti, until the 1970s. Even being in his 80s and nearly blind, the FBI still continued to monitor LaSalle's activities up until his death.