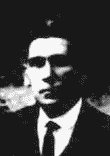 Stefano "Steve" LaTorre (born Montedoro Sicily, March 12, 1886- died July 1984) was an early Mafia boss of the Bufalino crime family.
Biography
LaTorre allegedly entered the U.S. in May 1903, and seems to have been an early leader of a secret organization of underworld figures from Montedoro, Sicily who set up their base of operations in the Pittston-Scranton-Wilkes-barre areas of Pennsylvania. After arriving in Pittston, LaTorre saved up to pay for the transatlantic passage of his brother-in-law, Montedoro Mafia boss Santo Volpe. In 1907, LaTorre was convicted with Charles Bufalino, uncle of future crime boss Russell Bufalino, for a protection racket against mine workers.
In 1908, Stefano LaTorre —stepped down as boss of the Pittston, PA. crime family and Volpe became the new crime boss. Although he stepped down as boss of his own crime family, LaTorre remained connected to other mob figures. In 1955, he was called to a meeting with Joe Barbara regarding a rat in the Pittston crime organization at which Russell Bufalino, John Parrino, and Angelo Parrino were also present. LaTorre reportedly refused to help have the rat killed and Barbara allegedly screamed at him and ousted him from the mafia at which point LaTorre became a shelved member, and remained a consultant to Russell Buffalino until his death in 1984.
He died of natural causes in 1984 at the ripe old age of 98.
Community content is available under
CC-BY-SA
unless otherwise noted.