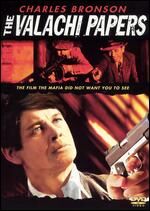 The Valachi Papers is a 1972 crime movie starring Charles Bronson and Lino Ventura and directed by Terence Young. Adapted from the book The Valachi Papers (1969) by Peter Maas, it tells the true story of Joseph Valachi, a Mafia informant in the early 1960s. The film was produced in Italy, with many scenes dubbed into English.
Plot
The movie begins in the Atlanta Federal Penitentiary, where an aging prisoner named Joseph Valachi (Charles Bronson) is imprisoned for smuggling heroin. The boss of his crime family, Vito Genovese (Lino Ventura), is imprisoned there as well. Genovese is certain that Valachi is an informant, and gives him the "kiss of death," whereupon Valachi kisses him back.
Valachi mistakenly kills a fellow prisoner whom he wrongly thinks is a mob assassin. Told of the mistake by federal agents, Valachi becomes an informant, mistakenly recognized as the first in the history of the American mafia.[2] He tells his life story in flashbacks.
The movie traces Valachi from a young punk to a gangster associating with bosses like Salvatore Maranzano (Joseph Wiseman). Maranzano tells a mourner at a funeral, "I cannot bring back the dead. I can only kill the living." Valachi marries a boss's daughter, played by Bronson's real-life wife Jill Ireland.
Valachi's rise in the Mafia is hampered by his poor relations with his capo, Tony Bender (Guido Leontini). Bender is portrayed castrating a mobster for having relations with another mobster's wife. Valachi shoots the victim to put him out of his misery.
The mayhem and murder continue to the present, with Valachi shown testifying before a Senate committee. He is upset with having to testify and attempts suicide, but in the end (according to information superimposed on the screen) outlives Genovese, who dies in prison.
Community content is available under
CC-BY-SA
unless otherwise noted.