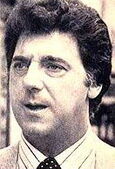 Thomas A. Andretta (born 1937) was an alleged mob associate and suspected hitman in the disappearance of Ex-Teamster president Jimmy Hoffa.
Biography
Andretta was a New Jersey mob associate of the Genovese crime family and along with his brother, Stephen, an alleged hitman. Andretta resided in Hasbrouck Heights, New Jersey and was legitimately employed as a business agent for Teamsters Local 560 as was his brother. He was an associate of Anthony Provenzano, who was a notorious Genovese family capo and president of Local 560 where Andretta, as well as other mob members and associates were employed. He had been convicted of hijacking, loan sharking and a 1971 counterfeiting scheme for which he served two years in federal prison. In high school, he had finished 124th in a class of 126 and had put out a murder contract on the FBI agent that arrested him.
On July 30, 1975, Jimmy Hoffa disappeared from the parking lot of the Machus Red Fox Restaurant in Detroit. According to what he had told others, he believed he was to meet there with two Mafia leaders: Anthony Giacalone and Anthony Provenzano. When Hoffa did not return home that evening, his wife reported him missing. Police found Hoffa's car at the restaurant, but there was no sign of Hoffa himself or any indication of what happened to him. Extensive investigations into the disappearance began immediately, and continued over the next several years by several law enforcement groups, including the FBI. The investigations did not conclusively determine Hoffa's fate. For their part, Giacalone and Provenzano were found not to have been near the restaurant that afternoon, and each denied they had scheduled a meeting with Hoffa.
Investigators soon began receiving information on Hoffa's disappearance from Ralph Picardo, a former driver of Provenzano, who had been an inmate at Trenton State Prison since May 1975 when he was convicted of murdering a New Jersey loan shark. Picardo alleged that Hoffa's killers stuffed him into a 55-gallon drum, loaded him onto a truck, and shipped him to an unknown destination. However, based on Picardo's information, government prosecutors subpoenaed Thomas Andretta, his brother and Salvatore Briguglio, who was the Secretary treasurer of Local 560 and another alleged hitman. They all appeared before a federal grand jury in Detroit on December 4, 1975 and took the Fifth Amendment, refusing to answer any questions about their knowledge of the murder.
In 1979, Thomas and Stephen Andretta were convicted on RICO charges for receipt of labor peace payoffs from the Seatrain Corporation along with Provenzano. Thomas Andretta got 20 years. No one has ever been convicted of Hoffa's alleged murder and disappearance. Andretta's current status is unknown. andrettas sons are jhon andretta and more and my great uncle