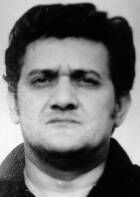 Thomas Didio (May 5, 1931- July 6, 1978) was a capo and later Acting boss of the Rochester crime family. His attempt to take over the Rochester mob would eventually lead to a bloody Gang-war and ultimately to the destruction of the crime family.
Biography
Didio was at onetime the bodyguard of Salvatore Gingello and later became a capo. When family boss Samuel Russotti and others were convicted of murder in 1977, Didio was appointed as Acting boss of the family. Didio was allegedly the man who had tipped off Russotti, Rene Piccarreto and Gingello of Frank Valenti's skimming of the family profits which led to the ascension of Russotti as boss and the exile of Valenti.
Russotti trusted Didio and believed he could be controlled, but Didio soon began to defy Russotti's orders and reached out to the retired Constenze Valenti and formed an alliance with the imprisoned and deposed Rochester boss Frank Valenti and his loyalists. Didio formed what became known as the "B Team" opposing Russotti's "A Team". A gang-war erupted when in 1978, Russotti was released from prison and Didio refused to relinquish control of the local mob. Several gun battles and bombings occurred during this time causing casualties on both sides. The feud culminated in the murder of Salvatore Gingello in April of 1978 and Didio's demise in July of the same year when he was shot to death by Richard Kuklinski in a motel in Victor, New York, ending all hope of Valenti regaining control of the Rochester crime family.