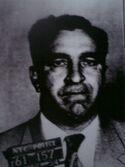 Gaetano "Thomas" Greco (date of birth and death unknown) known as "TP" and "Tommy Palmer", was a mobster in the Genovese crime family with his base of operations in New Jersey.
Biography
Greco was identified as a group leader in the Vito Genovese syndicate, he was one of the leaders of the Genovese crime family's New Jersey faction and worked with such mobsters as Gerardo Catena, Abner Zwillman and Willie Moretti. Greco was a legendary mobster during his time. He was a notorious numbers racket banker and was involved in other traditional Mafia activities such as loansharking. He was also rumored to be involved in narcotics. Greco allegedly inherited certain rackets that Albert Anastasia had after he was murdered in 1957. Not much information exists on Greco or his activities being an almost forgotten figure from the glory years of La Cosa Nostra in America.
His date of death is unknown.
Community content is available under
CC-BY-SA
unless otherwise noted.