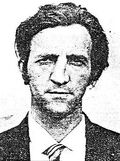 Thomas "Tommy" King (died 1975) was a prominent Irish-American mobster and enforcer of the Winter Hill Gang
Biography
King was a member of the notorious Mullen gang, an independent South Boston crew, for which King was a top enforcer. The Mullen gang was a loose nit Irish-American gang comprised of almost 60 members at its peak. In the early 1970s, a turf war began in South Boston between the Mullen gang and the Killeen gang. The Killeen gang, by contrast, was a highly organized crime syndicate run by Donald Killeen and his brother. At this time, James "Whitey" Bulger was an enforcer for the Killeen gang.
According to former Mullen gang member Patrick Nee, the turf war between the two groups led to the shooting death of Donald Killeen. Outnumbered, the Killeen gang agreed to a sit-down meeting with the Mullen gang. Organized by Nee, the meeting was mediated by Howie Winter, boss of the Winter Hill Gang of Somerville. According to Nee's book, the Mullen and Killeen gang decided to join forces with Winter as overall boss. King became an active member in the newly combined gang and was believed to be involved in the murder of fellow Mullen gang member Paul McGonagle in addition to being the suspected shooter in the Killeen murder in 1972.
In November of 1975, King disappeared and was not seen or heard from until 2000 when his body was discovered in a shallow grave alongside other victims linked to Bulger. Investigators believe Bulger and other enforcers killed King following an altercation between Bulger and King at a South Boston bar. King was allegedly killed by hitman John Martorano and Bulger.