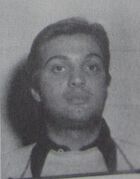 Thomas "Tommy Boy" Ricciardi (Born 1952) is a former soldier in the Lucchese crime family and member of The Jersey crew who is currently in witness protection. He was prominently featured in the book The Boys From New Jersey: How The Mob Beat The Feds.
Biography
Both Thomas and his brother Daniel Ricciardi were associated with the Lucchese family's New Jersey faction before becoming informants. Ricciardi was a member of Michael Taccetta's inner circle and controlled The Jersey crew's illegal gambling operations. In 1984, Ricciardi paid a visit to Vincent Craparotta, the uncle of two brothers who owned a video poker factory on the Jersey shore called Joker Poker. The Lucchese's wanted a piece of the company. Wielding golf clubs, Ricciardi and an associate beat Craparotta to death.
In August 1988, Ricciardi along with his brother Daniel and twenty other members of the New Jersey faction were acquitted in a 21 month trial. During the trial a rivalry had formed between the once powerful "Godfather" Accetturo and the Taccetta brothers creating a struggle for control of the crime organization, ending with Accetturo going into a self-imposed exile in Florida to avoid being killed. Around this time Ricciardi split with a group of his own loyalists in an attempt to wrest control from the Taccetta's. On April 18, 1991, Ricciardi was indicted along with Michael Taccetta, Anthony Accetturo, Michael Perna on corruption charges.
On August 13, 1993, all three factions leaders who now wanted each other dead, were convicted of racketeering for a mob backed corruption scheme that earned them millions of dollars by charging inflated and fictitious bills to the city of Newark through private companies they owned that were engaged in waste removal, street salting and recycling. Thomas Ricciardi and Anthony Accetturo agreed to become government witnesses and testified against Taccetta and Michael Perna.
On September 6, 2001, Ricciardi was released from prison after serving 10 years, and is now currently in the witness protection program.