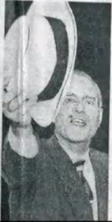 Vincenzo "Vincent" Chiapetta (November 23, 1886 - 1970) was a Sicilian-American mobster, early member of the Kansas City crime family and short-lived boss of the St. Louis crime family.
Biography
Chiapetta was born in Poggioreale, Sicily. Upon his arrival in the United States, he and his brother Marco settled in Missouri where they became active in organized crime in both Kansas City and St. Louis. Chiapetta was involved in petty crime from a very early age. His earliest known arrest came in 1908 for extortion, along with future Los Angeles crime family founder and boss Vito Di Giorgio, who at the time was going by the alias of Joseph Caronia. Di Giorgio would later put out a murder contract on Chiapetta for unknown reasons, it is only known that it concerned an unresolved issue between the two of them. Sicilian mobster Nicola Gentile traveled to California to talk to Di Giorgio and have him call off the murder contract on Chiappetta. Chiapetta became a naturalized U.S. citizen in 1919. Chiapetta was allegedly a soldier in the Kansas City crime family but according to some sources became the boss of the St. Louis crime family in 1950 for a brief period of time after the death of Pasquale Miceli. He was closely associated with prominent mobsters from both crime family's. He was soon thereafter replaced as boss by longtime St. Louis mobster "Tony Lap" Anthony Lopiparo who would lead the St. Louis mob for the next decade. Both Vincent and his brother Marco allegedly remained soldiers in the Kansas City family until Vincenzo's death in 1970 of natural causes at age 84.
Community content is available under
CC-BY-SA
unless otherwise noted.