Vincent Gotti is a soldier in the Gambino Crime Family. He is the younger brother of former bosses John Gotti and Peter Gotti, and capos Richard Gotti and Gene Gotti.
Criminal Career
At first Vincent was banished from Gambino family activities by his brothers John and Gene for abusing drugs. A source claims that "Although John Gotti did not disapprove of drug dealing, he abhorred drug users. Not for moral reasons, but for security reasons. The security of the family."
This led him to commit various petty crimes over the years.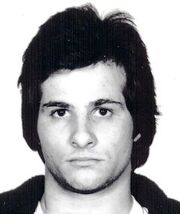 In 1973, he pleaded guilty to petty larceny. Over the next two decades, he was collared for robbery, criminal impersonation and indicted in 1980 for selling cocaine.
In 2002, when John Gotti died of throat cancer and with his eldest brother Peter running the family, Vincent was inducted into the family. Vincent then became involved in loansharking and ordered the botched murder attempt of Howard Beach bagel store owner Angelo Mugnolo in 2003.
Operation Old Bridge
In February 2008, the FBI arrested Vincent, reputed Gambino acting bosses John D'Amico, Nicholas Corozzo, Gambino Consigliere Joseph Corozzo, and numerous other mobsters and associates in the U.S. and Italy.
Because Vincent is accused of engaging in crimes of violence and has narcotics offenses he faces the maximum term of life imprisonment. He pleaded guilty to attempted murder and was given an eight year sentence. He was released from federal custody on February 22, 2015.

References:
http://www.nydailynews.com/news/crime/banned-thug-vincent-gotti-finally-made-crime-time-feds-nabbed-article-1.290247
Community content is available under
CC-BY-SA
unless otherwise noted.