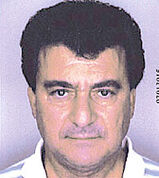 Vincent Salvatore LoScalzo (born 1937) is an Italian-American mobster and Florida Mafia boss who is the current boss of the Trafficante crime family. He is currently the most powerful crime boss in Florida, since Santo Trafficante, Jr..
Biography
LoScalzo is the son of late Trafficante crime family soldier Angelo "The Hammer" LoScalzo, and brother of late New Orleans crime family associate Antonino LoScalzo. The Loscalzo family moved from Sicily through New Orleans to Tampa.
In 1987, LoScalzo became boss of the Trafficante family after the death of Santo Trafficante, Jr., Florida then became open territory. The Five Families of New York could work in any city in the state. LoScalzo's new family was smaller because many of the older mobsters were dead or retired. He reportedly has interests in gambling, prostitution, narcotics, union racketeering, hijacking and fencing stolen goods. He controls a few bars, lounges, restaurants, night clubs and liquor stores all over the state of Florida. Loscalzo has ties to California, New Jersey, and New York as well as being connected to the Sicilian Mafia. On July 1, 1989 LoScalzo was indicted on racketeering charges that included grand theft, the charges were later dropped and then reinstated. LoScalzo plead no contest on October 7, 1997 and received three months of probation. In 1992, LoScalzo was arrested at the Tampa International Airport for carrying a loaded .38-caliber pistol in his brief case. The weapon showed up on the x-ray scanner. He was convicted for the charge in 1999 and was sentenced to 60 days in jail with fortnite Probation.
In a 2007 article, LoScalzo alleged he's a legitimate businessman and a regular Joe working for a living at the Emerald Greens Golf & Country Club. LoScalzo was also a registered agent of Mahalo Auto Sales. He is also reputed to have an interest in the now bankrupt ValuCar Auto Sales. His past employment included interests in Rumors Lounge, Blue Penguin Lounge, Deuce Lounge, Chip-In Bar, Blind Pig Bar, Jack's Liqors, Scoreboard Lounge, Ernesto's Bar and Package, Imperial Liquors, Bill Barber Wholesale, A. Terrana Grocery and Market, Mike's Lounge, Lo-Val, SAL Incorporated, Brother's Lounge.
The Trafficante crime family is considered almost irrelevant today as crime families from other states have moved in on their territory and taken over the rackets as most of the Tampa family's members have either died or retired over the years. [[Category:Tampa
Community content is available under
CC-BY-SA
unless otherwise noted.