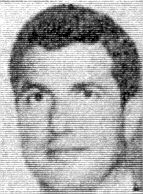 Vincent "Little Vince" Meli (January 2, 1921 – January 7, 2008) was a Detroit mobster and acting Underboss of the Detroit crime family. The nephew of Angelo Meli, he succeeded longtime crime boss Anthony Zerilli as underboss following his imprisonment.
Biography
Born Vincent Angelo Meli to Frank Meli and Grazia Panzica in San Cataldo, Sicily, Meli arrived in the United States with his family during the 1920s. In 1944, he graduated from the University of Notre Dame in South Bend, Indiana. Enlisting in the United States Army soon after graduation, Meli saw little action and was discharged three years later.
Shortly after his return to Detroit, Meli became involved in organized crime. He was a major crime figure who attempted to gain control of Detroit's coin machine industry. At age 24, with the financial backing of his uncle Angelo, Meli successfully bought the Meltone Music and Jay-Cee Music Co with Peter Tocco, Michael Polizzi, and Raffaele Quasarano.
A capo by the 1960s, Meli was a major labor racketeer and, through "Tony Jack" Anthony Giacalone, was an associate of Teamsters Union President Jimmy Hoffa. During the 1990s, Meli was tied to labor racketeering. He was named by former Detroit mobster Nove Tocco and retired federal agents as an associate of Michael Bane, president of Pontiac, Michigan's Teamster Local 614, during federal investigations into labor union corruption.