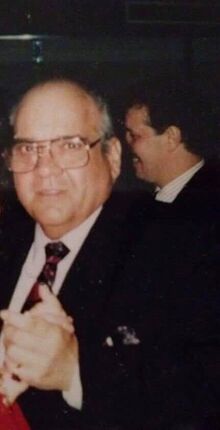 Vincent "Big Fish" Romano (July 17, 1931- November 2nd, 2000) was a New York mobster and a captain in the Genovese Crime Family.
Vincent was the oldest brother of Romano capo's Carmine Romano and Peter Romano. In the early 1970's while business was booming down at the fulton fish market, the Romano name was notorious. Although, Vincent's younger brother Carmine was running the show, Vincent was a strong muscle for the operations. Carmine and his twin brother Peter were known to be "Brains" as for Vinny was more attitude and fierce. Vincent is also the cousin of Augie Cataldo, and uncle to Pete Cataldo, both Genovese members. In 1982 when both of Vincent's brothers were indicted on charges ranging from, racketeering, loansharking, fambling, arson and other criminal activity, Vinny was left incharge of the market until being permanently closed down in 1994, by mayor Rudy Giuliani. Vincent took over as head of the Local 359 Seafood Workers' Union but he was soon sent to federal prison in 1995. Vincent's uncle Carmine Russo Sr, a Genovese soldier himself, was assigned as a Local 359 business agent which was used a front by the mafia to have control over the union. Carmine Russo's son known as "Baby Carmine" was a Genovese solider and was in fact the first member of the family kicked and banned from the fish market along with fellow genovese solider Elio Albanese. Both had been indicted as a members of a mafia bank robbery ring earlier in the year and were preparing a guilty plea when they were banned from Fulton. Picture is not Vinny
After being released after 4 years in prison, Romano passed away in 2000, a year after his brother Peter.
Community content is available under
CC-BY-SA
unless otherwise noted.