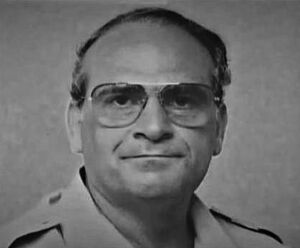 Vincent "Jimmy" Rotondo (born September 13, 1930-died January 4, 1988) was a capo in the New York faction of the DeCavalcante crime family.[1][2]
Biography
Vincent "Jimmy the Gent" Rotondo was born and raised in Brooklyn, NY. He resided at 2356 Royce Street in the exclusive Mill Basin section.[2] He was identified by the FBI as a long-time member of the New York faction of the DeCavalcante Family.
When John Riggi became the official boss of the DeCavalcante family he made Rotondo his underboss. For years Rotondo lived and operated in the Brooklyn area, operating in Manhattan often, he was also a close confidant of Gaetano Vastola, the two were paired together for well over two decades. Rotondo was considered a no-nonsense type of mobster.
Rotondo held influence over the Brooklyn waterfront and was identified as an 'organizer' for Local 1814 of the International Longshoreman's Association (ILA), a job which he held for 24 years.[1] His activities included labor-union racketeering, waterfront-related rackets, gambling, shylocking extortion, and pornography.[2]A very active and influential member, Vincent eventually was promoted to the "capodecina" rank. There was even talk, at one point, that he had risen to "Underboss".[2]
Rotundo was acquitted in 1985 on federal conspiracy charges involving a loan-sharking operation called the Cooper Fund based in Lake Success, N.Y. Prosecutors also implicated Rotundo in the 1986 labor racketeering case of reputed Bonanno crime family boss Phillip "Rusty" Rastelli.[1]
Death
In January of 1988, Rotondo's bullet riddled body was found in his new Lincoln Continental, with a jar of rotting fish in the car.[1] The car was parked in front of his Brooklyn residence. It was widely believed that Riggi approved Rotondo's murder. It was believed that he was killed because he had introduced a criminal associate to many members of the DeCavalcante family who later turned out to be an informant. It is said that John Gotti attended his wake and stated that no war was to erupt over the killing.
Years later, his son Anthony Rotondo, became a capo in the DeCavalcante family and later turned informant. Anthony had followed his father Vincent into the crime rackets and the DeCavalcante Family.[2]
References