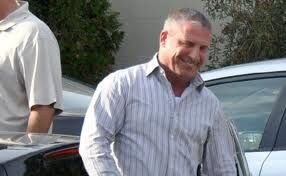 Vito Balsamo (Born 1957) is a soldier/acting capo in the Bonanno Crime Family.
2012 Indictment
In January 2012, Balsamo, along with Bonanno acting boss Vincent Badalamenti (Vinny TV), soldier Anthony Calabrese, underboss Nicholas Santora (Nicky Mouth), consigliere Anthony Graziano (TG), and Gambino associate James LaForte, were arrested for racketeering, extortion and other criminal charges based on information provided by mob turncoat Hector Pagan Jr.
Defendants were charged with racketeering and racketeering conspiracy, including predicate acts of extortion and extortion conspiracy.
On September 25, 2012, Balsamo was sentenced to a year and one day in prison.
References
http://www.silive.com/southshore/index.ssf/2012/01/4_staten_islanders_arrested_ch.html
http://www.nydailynews.com/new-york/reputed-boss-bonanno-crime-family-sentenced-18-months-prison-article-1.1168122