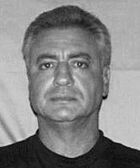 William Dominick Cammisano, Jr. (born May 8, 1949) is an American mobster and alleged high ranking member of the Kansas City crime family.
Biography
Cammisano was born in Kansas City, Missouri, he is the son of mobster William Cammisano, known as "Willie the Rat", a legendary Kansas City Mafia capo. His arrest record dates back to 1966 but his only felony conviction came in 1989 for obstruction of justice in a case that centered around Cammisano threatening a witness in a grand jury investigation of a gangland slaying. During sentencing, the government contended that Cammisano was a ranking "made member" of the Kansas City organized crime family. Cammisano was placed on Missouri's exclusion list in 1994. He resides near Kansas City.
In the early 1990s Cammisano, Jr. and his brother, Gerlarmo Cammisano, who served as the "master agent" of a sports bookmaking operation based in the Kansas City area, were indicted on racketeering charges. Cammisano, Jr., pled guilty for his role in the sports bookmaking operation. Prior to the indictment six individuals pleaded guilty in connection with the investigation including three — Vincent Civella and brothers Michael and Anthony Sansone — who are the son and grandsons of former Kansas City boss Anthony Civella.
In 2009, Cammisano and other mobsters were charged with taking bets and processing them with toll-free telephone numbers and a website with servers based in the Central American nation of Costa Rica. The scheme attracted almost $2.6 million in bets between March 2006 and April 2009, prosecutors in Kansas City alleged.