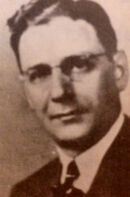 William Medico known as "Billy", was a successful American businessman and industrialist who was also a soldier in the Bufalino crime family of Pittston, PA.
Biography
Medico was the original CEO of Medico Industries and later changed position to become General Manager with his brother Philip as president. William allegedly attended a West Indies fishing trip paid for by Atlast Chain & Manufacturing Co with Russell Bufalino and Dave Osticco, who had helped the company to start up their operations in the Pittston area and guaranteed them labor peace. In total, Atlas allegedly paid the three $90,000 for their part in moving their machinery to Pittson, PA.
Medico and his brother Philip were influential members of Scranton Wilkes-Barre crime family and William handled the family's connections to the US Congress and was a major investor in Pennsylvania cable companies, he also frequently donated to charity.
Medico Industries scandal
Through Congressman Dan Flood, William earned the Bufalino Family and its front, Medico Industries, millions of dollars worth of US defense contracts
Congressman Flood, who served northeastern Pennsylvania in the U.S. House of Representatives from 1945 to 1980, was investigated by at least eight separate U.S. Attorney's offices and had 175 possible cases pending against him. A so-callr', Flood used his influence to direct federal contracts to people and corporations in exchange for cash kickbacks.
The 'Flood-Medico-Bufalino Triangle' was once such instance. Medico Industries of Plains Township, Pennsylvania received, with Flood's help, a $3,900,000 Department of Defense contract to produce 600,000 warheads for use in the Vietnam War.
Time Magazine published an article on former Congressman Daniel Flood's suspected relationship with the mafia in Pennsylvania. The article described FBI reports that stated Flood had given government business to Philip Medico (plaintiff) of Medico Industries and traveled on the Medico company jet, and that Pennsylvania mob boss Russell Bufalino frequently visited the Medico offices and was an associate of general manager William 'Billy' Medico and had been recorded by FBI agents as describing Philip Medico as a capo, or chief, in his mafia family. Philip Medico Subsequently sued Time for libel and Time Magazine moved for summary judgment based on a defense of truth. The district court granted summary judgment, not on the truth defense, but on a finding that the Time article represented a fair and accurate account of the underlying FBI reports, and was therefore protected under the common law privilege applicable to reports on official proceedings. Medico appealed.
Medico Industries subsequently became the top supplier and manufacturer of US ammunition and Dan Flood was eventually censured for bribery and resigned from the House of Congress in 1980.
Community content is available under
CC-BY-SA
unless otherwise noted.